Religion in Turkey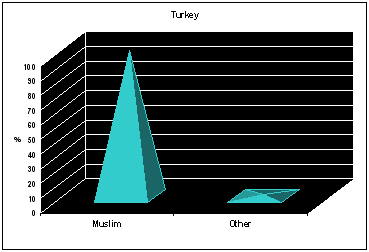 * WORLD FACTBOOK 2011
---
An Imam explains Islam
By IMAM SHAMSHAD A. NASIR
Islam is the name of the religion that was founded 1,400 years ago by the Holy Prophet of Islam, Muhammad. Islam is an Arabic word which means peace, love and complete submission and obedience to God. There is no difference between Islam and Muslims. Islam is the religion that a Muslim follows, just as Christianity is the religion which a Christian follows.
A Muslim is someone who has accepted Islam and lives his whole life according to the teachings of Islam. A true Muslim is one who is loving and caring, promotes peace, and is fully obedient and submissive to the will of God.
Islam demands from its believers that they establish peace in the world, promote love and make such examples of themselves that others, knowing that they are Muslims, feel at peace and harmony in that knowledge. This is the true Islam and what it means to be a Muslim.
The Holy Prophet of Islam has said that a true Muslim is one whose actions and words do not harm his fellow man.
ISLAMIC GREETINGS
When Muslims greet each other, instead of saying, "good morning" or "hello" they say "Assalamo Alaikum," which means "May peace be upon you and may God's blessings be with you." This greeting makes a Muslim aware that he has to spread love and peace wherever he goes.
ATTRIBUTES OF GOD
There are many attributes of God, one being "AsSalam" meaning "the Bestower of peace and love." Man has been created to fashion himself to the attributes of God and Muslims must try to adopt this attribute of God.
If someone calling himself a Muslim and a follower of the Holy Prophet does not promote peace and love in his actions and does not follow this teaching, he cannot be a true follower of the Holy Prophet.
A MUSLIM'S PRAYERS
Muslims pray five times a day, asking God for his love.
They pray, "Oh God! You are Peace and from you, is Peace; Blessed are you, O Lord of Majesty and Bounty."
THE RELIGION OF ISLAM
Islam is a religion from God for the whole of mankind and the name Islam was given to the Muslims by God himself in the Holy Quran.
"This day have I perfected your religion for you and completed my favour upon you and have chosen for you Islam as religion."
The Holy Quran has been sent for the guidance of mankind. It is full of wisdom and commands.
---